Alberto, like his father and grandfather, is a distinguished and accomplished watchmaker with 30 years experience repairing the world's finest watches, both antique and contemporary. At the age of 16, Alberto commenced his apprenticeship under his father's, Radamis, tutelage. (Radamis Frosio, as one of Argentina's most respected horologist, trained both Cartier's and Patek-Philippe's Argentinean directors of service as well as numerous watchmakers at the Rolex Service Center in Buenos Aires.)
Our stellar association with Mr. Frosio spans almost two decades. He brings to Capetown a three generation "tradition of excellence and commitment to quality". His knowledge, dedication and energy have been most instrumental in the dramatic growth, dependability, and prestige of our fine watch repair division.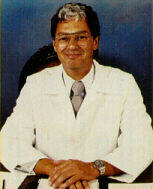 Meet Alberto Frosio, Master Holologist and Head of our West Coast Repair and Restoration Center.