Wrapping your dreams around your wrist.
Owning an expensive watch is like owning a luxury car. You don't need a Mercedes to get from Point A to Point B, but it sure can improve the trip. And while you don't need a fancy watch to get through a day of appointments, you can at least feel like you're spending quality time.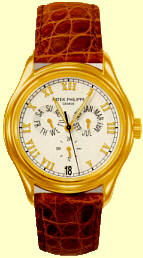 Then there is another similarity: some luxury watches cost as much as a Mercedes. The range in the luxury watch market is basically $2000 and up with the majority of handmade fine watches bringing in $8000 to $10,000. But some watches with special features can cost much more. The six figure level is not that uncommon.
The market for luxury watches with mechanical movements almost disappeared in the early 1980's after the Japanese began dominating the market with quartz watches that were cheaper and more accurate. But Swiss watchmakers have re-established themselves at the high end of the market by relying on status, collectibility and mechanical wizardry to attract buyers.
Last year, Swiss watchmakers generated about $3 billion from the sale of high-end mechanical watches; the figure has remained steady for several years. People are coming to appreciate them as wearable art.
That is how a recent client saw the purchase of his $17,500 Patek Philippe watch, which his wife bought him as a gift: The watch is an expensive piece of jewelry, no different from something he might give to his wife. Not only does it make a statement, but with a 7 year old son, he viewed the watch as a keepsake that could be passed down through the family - and possibly grow in value.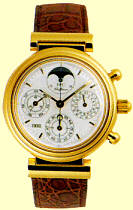 A $50 department store watch can keep time just the same as its costlier cousin but probably doesn't have as long a life, says Hank Edelman, U.S. president of Patek Philippe watchmakers. "Consumers want something that will retain as much value over time as possible. Buying a watch should be like buying a painting; there's an inherent value that won't go away."
Although many rare watches can appreciate, there are exceptions to the rule. Watches that do well at resale are certain models from manufacturers like Patek Philippe, Vacheron & Constantin, Breguet, Audemars Piguet, IWC and Rolex.
One of the most important factors in determining prices is the number of "complications", or extra features, in a watch. These include calendars, moon-phase indicators, stopwatch features and hour-and-minute chimes. ( Some complications are so involved that few companies offer them. )
A perpetual calendar which automatically accounts for leap year (one tiny gear inside the watch turns every four years), can add $15,000 to $30,000 to the price.
The most difficult complication, a tourbillon - a gyroscope-like device that turns about every minute to compensate for gravity's pull on the timepiece - adds from $40,000 to $120,000 to the cost of the watch.
Patek Philippe took complications to an outrageous extreme in 1989 by producing the Calibre '89, a watch with 900 parts, 33 complications and a price tag of $2.7 million.
So what else helps determine the price of a luxury watch? Important factors are the amount of labor, the reputation of the makers, the rarity of the watch, the quality of the materials and the styling of the watch.
Dealers and collectors consistently place brands like Patek Philippe, Audemars Piguet and Vacheron & Constantin at the top of the industry heirarchy. Patek makes about 15,000 watches a year, and Vacheron, the oldest company in the business, about 11,000.
By contrast Rolex, arguably the biggest name in the industry, makes several hundred thousand watches a year by marketing them for ruggedness and reliability. The watches cost from $2100 to $150,000.
Some dealers and collectors include Jaeger-LeCoultre at the top of their lists and move Vacheron down a notch, while others include names like Breguet, Blancpain, IWC, Piaget or Bulgari.
Working down through the heirarchy come brands like Chopard, Ebel, Rolex, Cartier, Breitling, Baume & Mercier, and Omega.
A handful of young Swiss watchmakers are also gaining attention, Franck Muller, for example, is renowned in the industry for his tourbillons.
Although a collector may sneer at quartz watches, they are still a part of the Swiss luxury market and account for most of the country's overall watch exports. Cartier has been successfully marketing quartz watches for many years and several of their classic designs have enjoyed significant appreciation.
Ultimately, marketing may be the biggest influence on buyers of luxury watches.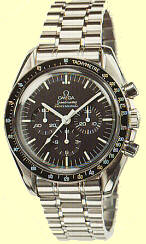 What's the difference between a $1500 Omega Speedmaster Professional in stainless steel with a chronograph, or stopwatch, and a Rolex Cosmograph with the same features, which lists at $10,500? Basically the name. The whole watch business is based on status.
The market for luxury watches has grown dramatically over the years. Fine timepieces are no longer the domain of men. The market is now courting women by making smaller versions of the complication watches, expanding the range of styles and, in some cases, adding more precious gems.
The waiting list for the SS Daytona runs up to 5 yrs.

It is a remarkable fact that enthusiasm for Swiss-made watches is buoyant worldwide. For many of the expensive models, the demand perpetually outstrips supply.

Despite economic recessions in major markets for top-quality watches customers worldwide are prepared to be put on a waiting list to secure not only such supremely luxurious masterpieces as, say, a Blancpain Grande Complication wristwatch but also super-slim dress watches or chunky sports watches that are almost "mass-produced" models, such as Rolex's greatly sought-after Submariner, Datejust, and Daytona models. Indeed, the fact that very many top Swiss watches can be awkwardly hard to come by seems only to increase their appeal.

Such precision-made watches must evidently do much more for their owners than keep precise time. There is an aesthetic appeal in their appearance, a value may be placed on the precious metals or gems used for decorative effect, and there are undoubtedly gains to one's self esteem to be had from parading a wristful of stylish luxury. But perhaps the most powerful satisfaction comes from the historic financial appreciation some of these timepieces have enjoyed.

Of course, the ultimate question for many buyers remains whether these watches are worth the price. For some two centuries, Switzerland has defined artistry in personal clockwork. Whether it will prove perpetual, we might say that only time will tell.







Home | About Us | Start Shopping Now | Contact Us