Patek Philippe Perpetual Calendar
1960 - $3,000
CAAP* - $60,000
Prices of Collector Watches are Rising
But Timing is Important for Investors
When it comes to alternative investments, rare watches can be timely. After a decade of fluctuation, experts say prices of collector watches are rising steadily now; and for the super rarities, bids at auctions are soaring.
Indeed, this decade has seen some hefty prices. Recently, a Geneva auctioneer sold a unique, man's platinum watch by Swiss maker Patek Philippe for 2.09 million Swiss francs, the highest price ever paid
Rolex Cosmograph Daytona
1960 - $450
CAAP* - $11,500

for a wristwatch at auction. The same watch was sold in 1981 for 185,000 francs. A stainless steel Patek Philippe's man's wristwatch fetched $863,408 at Sotheby's in London, more than five times what it would have brought in the late '80's.

Since 1991 very important and elaborate watches are an average 50% above their former boom prices.

"Average collector-watch prices are rising by an average of at least 10% a year," says Ruth Zandberg, head of Christie's international watch department.

Many experts feel that the collector-watch market must continue to rise. European economies are picking up; Asian economies are still growing; the American economy is on course, and demand still continues to outstrip production for many handmade models.

Still, we must warn fledgling investors that some watch prices can have nasty ups and downs. For would-be buyers of antique and collectible watches, here are some time proven guidelines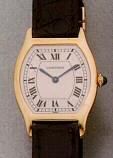 Cartier 18kt.
Ultra Thin Tortoise
1980- $3,000
CAAP*- $6,000

from our experts.

Brand Heirarchy - There is a clear heirarchy in the watch market, with seven companies forming the first group and, therefore, usually providing the best resale value. They are Switzerland's Patek Philippe, Rolex, Vacheron & Constantin, Audemars Piguet, and France's Cartier, I.W.C., Breguet.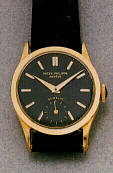 Patek Philippe 18kt
1955 - $650
CAAP* - $6,000

Authenticity - Only timepieces with uncontested authenticity can qualify as an investment. One of the many reasons Patek Philippe watches bring the world's highest prices is that is is easy to check their origin. Since founded in 1830, the company has numbered each watch it has made, and the watchmaker's library offers buyers full information on a watch's birth.

Condition - If a watch is left in a safe and never worn, its value can be increased by and additional 30%. But that's not much fun. How much wear and tear the watch has suffered during its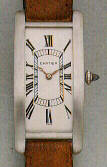 Cartier Platinum Tank
1925 - $600
CAAP* - $20,000

lifetime is most germane to its current value. Only those timepieces that were worn kindly and can be refreshed to showroom perfect should be considered for one's portfolio.

Originality - A changed case or improper bracelet can cut as much as 50% from the price, while a refinished dial on a vintage model can trim the price at least 10% to 20%; a renewed movement, however, isn't tragic because the watch's appearance isn't changed. A watch's original box and certificate also add value.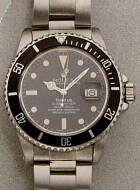 Rolex SS Submariner
signed Tiffany & Co.
1970 - $505
CAAP* - $2,800

Prices also increase if a watch had a famous owner or had been purchased from a renowned jeweler.

WARNING: For the lay person assertaining condition and originality can often times be impossible. You will limit your risk by buying from a competent source that will guarantee in writing that: What you are seeing is what you are getting!

Historical - For investors with vintage dreams and champagne budgets the experts agree the smart money goes on a watch that has a proven track record - at least a 5 year auction history that reflects a steady increase in price.

Most of the thousands of brands and styles of wristwatches manufactured in Switzerland over the last 90 years do not qualify for investment status. They have not endured the test of time. In other words, they lack that most important element that distinguishes a classic mark....long term consumer acceptance.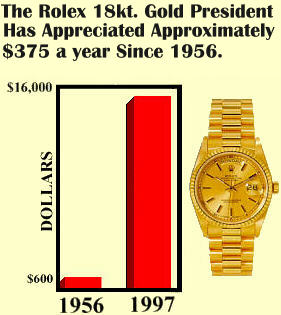 Contemporary Classics - Tomorrow's Investments

For those investors with a more modest budget and the need for an everyday watch, they may wish to consider Contemporary Classics - Tomorrow's Investments. There are more than a score of contemporary fine Swiss watches that one could consider as investments. Foremost amongst these brands are Vacheron & Constantin, Rolex, Cartier, Patek Philippe, Piaget, Audemars Piguet, Jaeger LeCoultre, and I.W.C.. Select models have shown dramatic increases in price and liquitidy over the last ten years. It's a good bet that prices will continue to climb.

We Have Tracked the Following 10 Watches Since 1988:

Rolex SS GMT
1988 Retail - $1,650
Current - $3,300
Rolex Lds. SS/18kt
1988 Retail - $2,600
Current - $4,200
Cartier 18kt Tank
1988 Retail - $2,500
Current - $4,350
Cartier Dia. Panther
1988 Retail - $12,500
Current - $18,900
Piaget Lds. Dancer 18kt
1988 Retail - $10,900
Current - $18,900
Audemars Perpetual
1988 Retail - $19,500
Current - $35,500
Royal Oak SS/18
1988 Retail - $9,750
Current - $14,700
IWC DaVinci
1988 Retail - $14,900
Current - $25,900
Patek 18kt 3520D
1988 Retail - $6,500
Current - $10,800
Patek Perpetual
1988 Retail - $26,000
Current - $44,000
70% Retail Appreciation in Less Than 10 Years
Plus the Joy of Ownership!
Many other timepieces have shown similar appreciation, many others have not.
Two rules of wrist:
#1 - Buy the watch that makes your heart happy.
#2 - If investment is the object, seek competent advice.
*CAAP=Current Average Auction Price
Home | About Us | Start Shopping Now | Contact Us