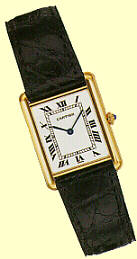 The Classic Louis Cartier 18kt. Tank Mechanical
1967 Retail - $ 575
Current Retail - $ 5,600

Today, many fine Swiss watches are still made by hand, with an almost maniacal attention to detail and accuracy. We feel that their purchase is one of the most satisfying and enduring investments one could make. The last decade has witnessed dramatic appreciation of many fine contemporary timepieces. Some makes and models have soared significantly in value. The attrition of skilled watchmakers coupled with the increasing international demand continue to propel prices upward.
The wearing of one of these masterpieces sets you apart from the crowd. It identifies you as a person of taste, good judgment, breeding and affluence....and as an added bonus, historically many classic models have proved to be good investments.
Read "The Importance of Buying a Fine Swiss Watch"
Home | About Us | Start Shopping Now | Contact Us