Capetown Diamond Corp. is one of the world's leading discounter of fine Swiss watches, precious jewelry, diamond solitaires, pearls, clocks, art, antiques, etc. Our high sales volume requires us to constantly replenish our inventory and as such, we have been consistently paying higher prices for these luxery items, insuring you of getting the best price for your cherished belongings.
1. SELL TO US FOR IMMEDIATE CASH
2. TRADE UP OR TRADE DOWN
If you live locally, we invite you to visit our showroom for a complimentary evaluation. If visiting our store is geographically inconvenient, simply call or email us to discuss your items. In all probability, a member of our staff can approximate a buy or trade-in price based on your description. It would be helpful if you could fax or email us a picture of your item.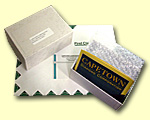 Call For Complimentary Mailing Kit
If you wish to proceed, either call or email us and request our complimentary mailing kit that provides you with a pre-addressed mailing kit, packing materials, and instructions on how to get your valuables safely to us. Please ship your items via U.S. Postal Service Registered and Insured, or UPS Air Insured. (These are the only two carriers who insure jewelry items.)
Upon receipt of your valuables they will be examined and evaluated, after which you will be immediatly telephoned and made a firm offer. Upon your acceptance of our generous offer, a check or wire transfer will be sent to you. In trade-in situations, the agreed upon amount will be credited toward your new purchase. Should you elect not to sell or trade, we will return your items to you, at our expense, via U.S. Postal Service Registered fully insured delivery.
Please phone, email, or fax our purchasing division for a complimentary evaluation.
Phone: 770-645-8555
M-F 10-6 EST || SAT 11-4 EST
Email: info@capetowndiamond.com
Fax: 770-645-0450 (24 hours)
EVALUATIONS ARE FREE!
IF YOU ARE NOT USING IT - WHY NOT SELL OR TRADE IT IN!