verybody talks about quality - it's like the weather. But, it is hard to define. To my knowledge, I am the first person in the world to present the jewelry and watch business to the public via the World Wide Web and Capetown Diamond is the premier quality jewelry discounter in the world. It was very important to me that my website was designed to appeal to the clients I wanted to get. Quality discerning buyers are more than price driven. It was important for me to be certain that my website was designed to appeal to the clients that I wanted to get: Quality, discerning buyers who are more than just price driven.
A quality client is generally very literate with highly developed tastes and needs. They don't just want to buy a bargain piece of jewelry. They know what they want and they want the vendor to deliver to their specifications. So, when I finally convinced myself that this was the type of client I wanted, I had to figure out what elements my company would have to incorporate to appeal to these customers. I knew that it would cost me money but how onerous would the cost be to go total quality?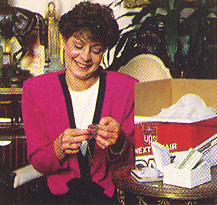 Out of town service calls, no problem! Capetown will dispatch you overnight, a self sealing mailing box replete with packing materials. We pay all shipping and insurance charges for warranty watch repairs.

One of the first things that I thought I would do is to make service and repairs very easy for my clients. So I decided that, should they have troubles with a watch, it would have to be sent back to me. To make this easy I designed a self-sealing mailing box replete with packing material enclosed. I even thought that, should I get an anal retentive customer who was extra upset because their watch wasn't operating properly, I could FedEx this box to them and pay the shipping cost for them to overnight the watch to one of my service facilities that could give them immediate repairs. To my knowledge, no one else in the industry does anything like this
This doesn't sound like much but, for those of you who've tried to work with factory service centers, it is a quality touch that puts Capetown well ahead of its competitors. This service costs our company perhaps $100,000 a year. My customers love it and are very supportive of our firm so it is well worth it. Of course, I meet a lot of young people who do not realize that these Swiss watches need frequent service. Also, there is usually nobody around to service the watches in a timely manner for a reasonable price. It may shock you to know that even for Patek Philippe, the wait could be as much as three months. They send their repairs to their shops in Switzerland.
Now let's talk about condition. Lest I brag, Capetown Diamond and I are credited with the renaissance in upscale pre-owned watches. As it is in America, I seem to have plenty of competition. Well, if you look real close, I don't!
Every pre-owned watch that I buy is sent for inspection by my technicians in Capetown's rehab center where everything that is preventing this watch from being classified as showroom new is resolved. My technicians treat these watches as if they were cash service repairs. Hence, whatever the technicians say the watch needs, they do - regardless of the cost.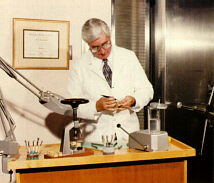 At Capetown, all service is swift and proffessionally executed.

There is one more thing that you must keep in mind while buying an upscale timepiece: every few years, these watches require service to strict factory specifications. At least with Capetown that will not present a problem. You'll have a friend in the watch repair business. To maintain our lifetime warranty, this service is mandatory.
We recently spoke to an executive in the service department at Rolex (I choose Rolex because it's a hardy time piece) and they said they should easily last a generation. Patek Philippe and others high grade time pieces will easily last a lifetime, IF they've been properly maintained.
Every now and then, something slips through our very cautious inspection procedures and we will end up with a watch that has problems, even though it tested perfect at first glance. And, God help us, it may not be authentic. (It's a very very tricky business - determining what's factory authorized, what's authentic, and what isn't). As knowledgeable as we are, if it happened to us it could happen to anybody. The difference is, if this malfeasance is discovered in twenty years, there will probably be somebody here who cares and will want to set it right for you immediatly. This vigilance probably costs our company a quarter of a million dollars a year, but it allows us and our clients a good night sleep. As far as my competition goes, nobody goes through these procedures. Reason being - other than being costly - is that it takes years to set up the infrastructure to successfully repair and analyze the myriad of Swiss watches that are out there.That is the quality difference.
Another quality touch that, much to my surprise, most jewelers, other than Neiman's and Tiffany's, do not subscribe to is the offering of independent laboratory certification of jewelry. (Most jewelers are not competent enough to detect fraudulent treatments to diamonds or colored gemstones, or do they have the expensive laboratory equipment required to enable them, or extensive knowldege or experiece to determine the diamonds color. We pay for that experience, more the $200,000 a year, because we are just not comfortable selling jewelry without a gemological certificate. That is quality, and we learned that from Tiffany & Co.)
Imagine the sorrow of purchasing a diamond that is just not right and years later, after you've passed on, your wife, in financial desperation, is informed by the person she's trying to sell the jewelry to, that it is just not right. Because we are major estate buyers, this happens almost everyday. People think it is a real ruby and it's not a ruby but a cleverly contrived synthetic. Or a diamond that has been lasered to eliminate the carbon spots - which dramatically drops its value. An intelligent quality-oriented person should want laboratory verification, even from Tiffany's and Neiman Marcus, and it's always available at Capetown. This probably costs us $200,000 a year because we are just not comfortable trying to sell jewelry without a gemologist's certification. Now that's quality.
Immediate Communication. And when we tell you we're going to pick up a phone call we do, there is no voicemail here. When you want to talk to somebody who can make a decision, even the chairman, it is not a problem; I'm always available to my clients and callers and am passionately interested in helping you. On the rare occasions that I'm not here, clients can speak with Jonathan (my son) or Rose, the Chairlady. We are always ready to speak to someone to straighten something out.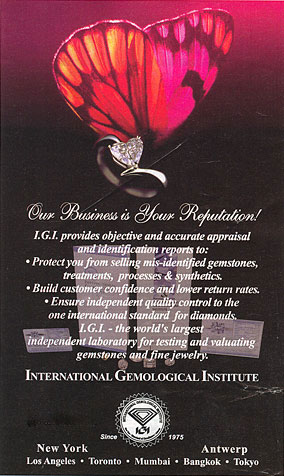 I.G.I. - the world's largest independent laboratory for testing and valuating gemstones and fine jewelry.

Every now and then, someone asks me if I'm competitive and I say, "Of course, I am. As long as we are compairing apples with apples and not with oranges. " Some youngster called me once (it's always the young ones that equate everything to numbers, they are looking for cheap) and told me there was a new watch that I had on my website for five hundred dollars less elsewhere. So I asked him where this company was, and he told me it was in Malaysia. What idiot would ever want to send $1,500 to Malaysia? The kind of clients I want on my customer list wouldn't do that, they're not about to. And of course, I cannot compete with some villainous vagabond on eBay or in Indo-China. The one big jump we have on all our competition, is our length in business, 40+ years. If you are really curious as to the clients we have, and their feedback, please visit our feedback section at: Click me! A look at the letter heads and you will see many of them are doctors, attorneys, top echelon business people, et al.
As I am writing this, one of my staff has just brought me an offer from a competitive telephone provider to BellSouth. Naturally, I'd like to save 25%, but I'm going to take a couple of hours to read their prospectus to find out if I'm dealing with the devil, because when it comes to telecommunications, we want quality, but we also want a discount. It is a rare thing in life to find somebody who offers you more for less. Well, that's what we do at Capetown.
Capetown is as high a quality company as is Neiman Marcus and the kind of clientele we seek are the same clients that Neiman Marcus seeks. As a matter of fact, if Neiman Marcus went discount, they'd be us. You don't discount quality. After reading this website, a discerning person should know the kind of company we are.
I am not just some self-appointed quality maven. I have 2,000 unsolicited testimonials sent to me by America's best and brightest, proving my claims. As an international jeweler, we know how to treat our customers and we know that our customers want quality including Certificates from the world's largest independent jewelry appraiser, top of the line customer service, a lifetime warranty. That's how we got to be world-wide, after all. To our knowledge, the sun never sets on an unhappy Capetown client on earth.
Thank you for your interest and for taking the time to read. Now that you know, shouldn't Capetown be your jeweler?
Best Regards,
Carl Marcus
Chairman of the Board