The Importance of Being Earnest
In regards to pre-owned watches.
Warning: all pre-owned watches are not the same!!
Must read if you are going to buy a pre-owned watch!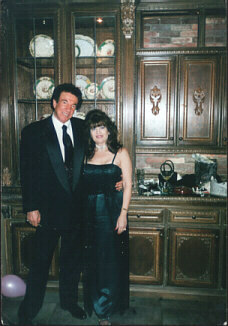 Carl and Rose Marcus welcome you to Capetown's World of Value! For three decades, a better way to buy Upscale Jewelry and Fine Swiss Watches.

Thank you for visiting Capetown's website. I'm going to assume that there is strong interest in making a purchase. Furthermore, I'm going to assume that this might be the first time you've ever bought a watch or precious jewelry via the web or mail order. So, I want to take a minute or two to introduce you to our fine company and to point out several very important differences between ourselves and our "competition".

My wife and I invented this business, and quite frankly, we do it better than anyone else. Why do we do it better? All together, there are perhaps hundreds of families (suppliers and employees) that depend on Rose and me for support. This creates an urgency in our mind that we must prevail above all others. Because our average sale is more than $5,000, we are dealing with a very particular type of clientele. I think it's safe to say they are America's best and brightest, and on the whole, an elegant, tasteful group. They're not interested in any manner of schlock or shady compromise. If that's what you're looking for, you've come to the wrong place. I think that by reading the following letter carefully, it will pretty much explain, to the intelligent discerning person, what we're all about.

August 20, 2002

Mr. Carl Marcus
Capetown Diamond Corporation
270 E. Crossville Rd.
Roswell, GA 30075

Dear Carl,

I want to thank you for making my buying experience a pleasure. The Rolex watch I purchased from Capetown was exactly as represented and the entire process from initial contact to delivery was handled with a degree of professionalism and integrity that left me with a sense of comfort throughout the entire transaction. I got a great price, remarkable value and a friend in the business. How can you beat that?

The Internet has offered consumers the ability to find a multitude of vendors offering every conceivable product. The problem is trying to find honesty amidst a sea of con artists. "Let the buyer beware" is the mantra that should be chanted regularly while "Surfing the net". Ultimately TRUST is the most critical factor in a relationship whether we're talking about a husband and wife or an Internet purchase. How can you evaluate price without trust in the qualitative assessment of the merchandise YOU CAN'T. Particularly when that relationship is a long distance, trust becomes even more important. You are trustworthy and I can't think of a higher compliment to pay a businessman or his organization.

I will recommend you without reservation to my friends and business associates. I have no doubt that this was the first in a series of purchases I will make from Capetown Diamond. I hope to meet you in person next time I am in Atlanta.

Sincerely Yours,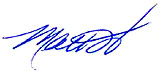 Marshall Kornblatt
537 N. Gates Ave.
Kingston, PA 18704

570-288-0565


Part of the reason for our success has been not taking our clients' needs for granted. This has been expensive and enervating. For example, we have many imitators that sell pre-owned timepieces. Be advised that every single timepiece that comes to Capetown is sent to our horological laboratory for a complete and thorough examination. This ensures that all scheduled maintenance has been performed. We don't want our clients to have to put up with the fuss and bother of giving up the watch for a few weeks for factory maintenance right after they purchase it. When we buy the watch, we'd rather determine this at our expense. Why don't other companies do this? Economics. At any one time, we have as much as a quarter of a million dollars worth of watches tied up, pending refurbishment.

That's the way we do it at Capetown. If the others don't think it's important, that's their call. If you don't think it's important, that's your call. I know that for the $75,000 per year that it costs me, I could buy a Rolls Royce. Well I already have one without compromising. Additionally, when you're purchasing a fine watch at Capetown, we provide you with a no-worry lifetime warranty. Don't think this doesn't cost us plenty! Why do it? It made my wife and I rich, so why stop now? It also made Rose and I probably the largest volume dealers of fine new and pre-owned watches in the world.

Another plus in dealing with Capetown is the intelligent guidance and information we provide. We eat, sleep, and dream this business. We never stop learning. I'm writing this on a Saturday afternoon and I'm missing a major Neiman Marcus sale. Tomorrow, I have to supervise the installation of our new security system in our new building. Rose, Jonathan, and I are dedicated to this business, and that's the edge our clients have in doing business with us.

Just in case something goes wrong, Rose and I are nice, plump, legal targets. We're property owners in Georgia, we're in business for over 30 years and have a considerable net worth, much more than most competitors that we know of.


The authentic hologram seal of the IGI.

Almost all of our jewelry comes certified by an independent laboratory, the IGI. The IGI provides fair, accurate appraisals complete with retail values. Not only do you see the grading details on the jewelry you're interested in, but you also get a good idea what it's worth. You don't have to take our word for it, take theirs! We appraise these pieces to insure that the jewelry you buy today is what it's purported to be. Our company spends tens of thousands per year on laboratory authentication. How's this for a scenario: You buy a diamond or other expensive stone from a jeweler, website, etc, and years later, during a financial crisis you have to sell the piece of jewelry. At that time, you find out that the diamond isn't the color it's supposed to be, it's received some radical treatment to make it look better. Verified laboratory analysis precludes unpleasant surprises. We are amazed by how many jewelers are so sure about what they're selling that they don't want to get a second opinion. I'm in the business for over 30 years, and not a month goes buy that we don't get an unpleasant surprise from the laboratory. The stone that we bought was lasered, treated, or some other downer. If it's art, antiques, jewelry or watches, we just don't feel comfortable unless we have a knowledgeable second opinion. Do you?

Most of Capetown's success has come to us through our watch division. Probably the most important difference between us and "them" (the competition) is our unique lifetime no-worry warranty. The only thing that is not covered by this warranty is watches that have been mistreated or watches that are due for their factory service requirements. This may not seem important, but let me give you some scenarios. New and Pre-owned Swiss watches can break and go out of kilter. Just because they're expensive doesn't mean that they don't require attention. By dealing with Capetown, you're protected against the frustration of sending your watch to an uncaring foreign watch company who've relegated warranty repairs to the back simply because they haven't figured out how to make a profit on them. We figured out how to make a profit on them. Every year, we get literally thousands of referrals and repeat clients. What goes around comes around is certainly true in the watch business. Our files are chuck full of horror stories from people whose watches were kidnapped for months on end by the foreign companies. Not at Capetown! I won't allow you to be put through that mess. Remember, the more complex the watch is, the harder it is to find anybody who has the vaguest idea how to handle it. Capetown has a significant stake in the repair of fine watches. It's part of what we do for a living. Instead of keeping the profits from that business so that my wife and I can buy more stuff, we use it to subsidize the warranty department. This is fresh and unique thinking in this business. Nobody does this. It seems that, at the first sign of success, most companies start cutting down on costs. Don't discount the value of Capetown's Lifetime Watch Warranty. It can mean the difference between you enjoying your watch or not.
We're real sincere about jewelry, and if you're not sincere and earnest, don't waste our time. Worse yet, the bane of our existence is daily discourse with a wordy group of shmucks, schnorrers, shleppers, and of course, schmuckettes. We've gone through great pains on this website to prove to you that we're worthy of anybody's trust. You'll find people that are less expensive than I am. eBay's loaded with them! As the above letter says, it's not all about price. If you're willing to deal with the devil, you won't want to deal with us. The devil charges less.

Again, Rose and I are in this business because we love it. We have all the money we need. Our children are well provided for, so we have no interest in compromising ourselves just for money.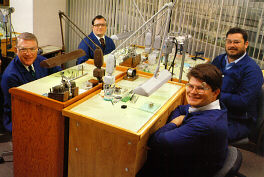 Capetown's elite staff of dedicated professionals and our 30 year reputation of excellence is your assurance of fast, high quality, warranty service.

Because we're so passionately involved in this business, we spend most of our vacations attending trade shows. Most of my reading every week, besides the Wall Street Journal and NY Times, is in trade magazines. This benefits you. As a matter of fact, as I was writing this, a client called about a very expensive Swiss watch. We know that this company has probably the worst service record of any company in Switzerland. They are consumer venomous (rather than consumer friendly). I was able to direct the client to other companies that don't have this reputation so they could avoid any future troubles. Is that worth anything to you?

If you're a terminally paranoid person, we will not have a pleasant experience dealing with each other. However, if you're sincere and earnest, you've met your match!

Unlike other companies, one of the major differences in our company is that we have a face. Nobody on the web has an identity. If something goes wrong, I'm here, my wife is here, my employees are empowered to give you immediate succor. No emails or voicemails required, we deal mano a mano. If you're a real Nervous Nelly, I'll even give you my home phone number! I have thousands of satisfied clients throughout the world, and all of them will be happy to recount their positive experiences with me. They're real, living, breathing, upscale humans like yourself. Don't ask me if we're honest, if the watch is real, etc. Ask them!

The Capetown Advantage:
Security
Recourse
World-class Service
Value
Cutting-Edge Information
Selection
Personal Attention
As I've mentioned before Capetown can only work with intelligent, reasonable people who respond to logic. Shleppers or shmucks find our selling procedures to fast to absorb what we're talking about. We simply don't have the time to spend on the phone repeating things. Take the time to read this website and learn.
Home | About Us | Start Shopping Now | Contact Us